Gift card
---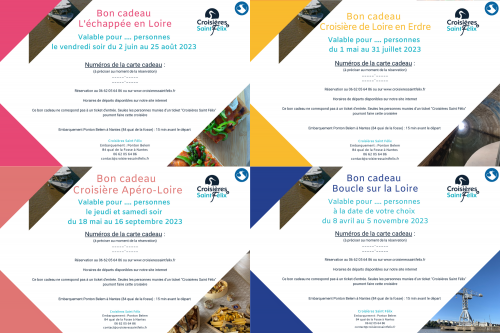 Do you want to offer one of our cruises?
Several options are available to you :
By mail
: Upon receipt of your cheque, we will send back the gift voucher and the corresponding tickets following your instructions (chosen cruises, number of people, shipping address, etc.). The beneficiaries will only have to contact us to book the cruise you have offered them on the date of their choice.
Saint Felix Cruises
Coworking 84
84 Quai de la Fosse
44100 Nantes
Online
: You buy a gift card for a defined amount. People who receive this card can use it on all our cruises for 1 year.
Step 1 : Select the number of gift cards I want to offer
Step 2 : Choose the amount of the gift card
Step 3 : Indicate the name of the recipient (s).
The recipient's email address is optional. If you fill it in, the recipients will automatically receive the gift card by email with the amount indicated as soon as your payment is finalized.
Step 4 : Pay this gift card
I received a gift card, how do I use it?
Step 1 : Book the cruise of my choice
Step 2 : At the time of payment, click on "Apply a gift card" then enter the number of your gift card
Step 3 : Once the reservation is confirmed, you will receive tickets for the booked cruise directly by email.